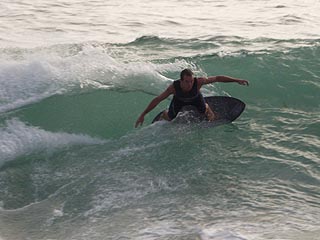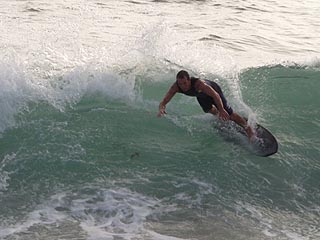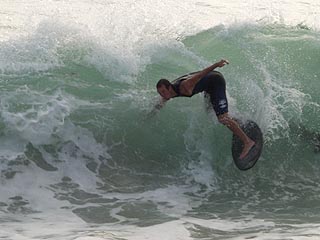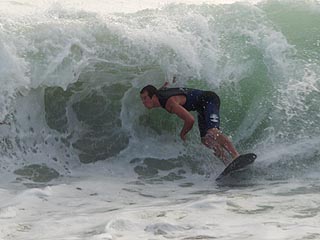 This series ISO 320 1/200th f.10 210mm
Late afternoon at Aliso beach south of Laguna Beach California.

One problem with living in Southern California is that afternoon pictures towards the Pacific always is backlit, this would be much nicer on the Atlantic side of America, Oh Well, such is life.

The E-10 an put 4 frames in the buffer durring a burst, and I tend to take advantage of this. It works best by following / panning the camera with the action, then when I feel stuff starts to happen I fire my 4 frames while continuing to keep the action in the viewfinder. This works well.

The thing to keep in mind with the E-10 is, not to get excited and start clipping a frame or two right before the action starts, because the camera do not allow you to shoot again right away, there will be about 2 sec delay after snapping a frame even when in continues mode. So hold on and fire the series when it look good.

It takes about 5 sec a pop to put the frames away on the storage card, this means that there are going to be 20 sec of writing again before you are ready for a full series. However it is possible to fire less frames if something happens in front of you earlier. Looking at the top of the camera you can see the bars indicating how many frames are in the buffer waiting to be saved.

When you are photographing make sure you have a appropiate shutterspeed, remember the old rule of thumb "shutter speed should equal 1/focal lenght" so if you are photograhing at max zoom with no converter 36mm is the same as 140mm on a 35mm camera, and the shutterspeed should then be 1/140th or faster. Anything slower than 1/140th will be hard to keep from getting blur from handshakes. This is a pretty accurate rule, unless you are uncommenly smooth, chances are that you will get some kind of motion blur at a slower shutter speed.