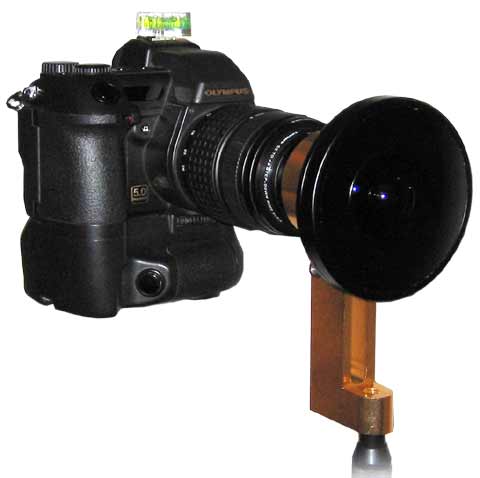 Olympus E20 with Nikon FC-E9 fisheye
When I heard that people are mounting DSLR's behind the Nikon FC-E9 using adaptor rings and Nikon 24mm lens,
Wondering about the weight, I slapped my old E20 with the batterygrip behind the FC-E9, guess what, it worked great, and the pictures stitched perfectly, just leave the zoom all the way out to get a perfect sphere. That said, the combination is a beast, and you really should have a hefty tripod to handle it.


(Sorry about the poor picture, I will update it as soon as I have a moment.)
Olympus E20 with RAYNOX DCR-FE185PRO fisheye
The Olympus E-20 and E-10 cameras are like born for the RAYNOX lenses, they have 62mm lens tread and screws directly into the Olympus front. even better, since the Olympus have a internal zoom, you can still zoom through with the fisheye lens mounted. Though naturally, the wide shot is the most exciting. Personally I have tried both lenses, but think I prefer the 180pro since it have a closer crop and will give you a full screen image for use in other than panorama applications. it also allow you to make a higher resolution spherical than the 185 lens.

Olympus E20 & E10
setup for Spherical Panorama photography using Nikon FC-E9 fisheye lens. or RAYNOX 185pro
The Olympus E20 and E10 turned out to function well behind the Nikon FC-E9 lens, I used a step down ring to go from the Olympus E20 62mm lens tread to the Fisheye lens's 46mm tread, you can purchase this kind of ring in most local photo stores.
One little issue was the weight though, since I am using a Gitzo Carbon fiber travle tripod, the overhang og my E20 with battery grip was enough weight that the center post did lean towards the weight, if you are going to use a E10 or E20 this way, I highly suggest a more beefy tripod.

Click here for spherical panoramas photographed with the Travel bracket or one of the test versions.
* Note, I now also have brackets for these popular lenses.


- SIGMA 8mm
- NIKON 10.5mm
- RAYNOX 180pro
- RAYNOX 185pro